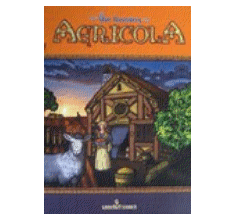 2016 Standings
| Name | Points |
| --- | --- |
| Randy Buehler | 34 |
| Moon Sultana | 24 |
| Richard M. Shay | 20 |
| Bill Crenshaw | 18 |
| Keith Sado | 16 |
| Chris Senhouse | 14 |
| Eric Wrobel | 14 |
| Andrew Harris | 11 |
| Bronwen Heap | 10 |
| Andrew Emerick | 4 |
| Roger Jarrett | 4 |
| Aaron Blair | 1 |
| Marena Tiano | 1 |
| Tim Evinger | 1 |
| Al Amaral | 1 |
| Andrew Menard | 1 |
| Chris Bert | 1 |
| Dan Tadmor | 1 |
| David DeFreest | 1 |
| David Fromwirth | 1 |
| Henry Dove | 1 |
| Ian Dembsky | 1 |
| Jennifer Nicodem | 1 |
| Jessica El-Beck | 1 |
| John Barringer | 1 |
| John Callahan | 1 |
| Leo Alex | 1 |
| Matt Miller | 1 |
| Melissa Miller | 1 |
| Peter Stein | 1 |
| Rob Kircher | 1 |
| Rob Murray | 1 |
| Shelly Thomas | 1 |
Uwe Rosenberg's worker placement game of medieval farming. Published in 2007 by Lookout Games. The 1st edition was distributed in English by Z-Man Games. The new 2nd edition is distributed by Mayfair Games.
See more information on Boardgame Geek and at Z-Man Games and Mayfair Games
Agricola is featured for online play. It was featured for live play in 2015.
Online play is available at:
Champions of Agricola
2016: Randy Buehler