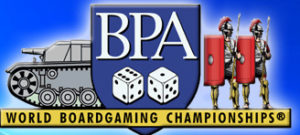 Meeple League participant since 2017
Unfortunately the BPA has had to cancel WBC 2021. There may be some informal gaming taking place at Seven Springs during the scheduled week.
When: July 23, 2022 to July 31, 2022 Where:  Seven Springs Resort, PA
The BPA's largest event is the annual World Boardgaming Championships® (WBC) where 2,000+ people from around the world compete to be named champion of their favorite boardgames.
In the past, WBC has run all 10 Meeple League events.
View the website at  http://www.boardgamers.org/
Notable players from WBC:
2018 Puerto Rico winner- Wade Campbell
2018 St Petersburg winner – Lumin Sperling
2018 Castles of Burgundy winner – David Vestal
2018 Ticket to Ride winner – Grant LaDue