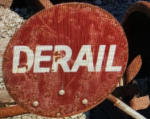 Meeple League participant since 2019
When: April 29 – May 1, 2022 from 9 am to Midnight Fri-Sat, 9 to 3 pm Sun (Precon Thu @ 7pm)
Where: Embassy Suites, Newark/Wilmington 654 South College Ave, Newark DE 19713, (302) 368-8000
Sponsor: The Days of Knights game store
Contact: pmsleboeuf@yahoo.com to preregister (payment by check or PayPal), for more information
Fee: $40 in advance, $50 at the door, or $25 for Fri or Sat, $15 Sun
Prizes: Gift Certificates and Train Related Prizes!
Hotel Convention Rate: $149/night for King, $169/night for Queen, (group code to be provided soon)
DERail is a convention that is all about playing train games. Players compete for the highest point total by playing in games such as the 18xx series, Great Western Trail, Ticket to Ride, Trans America, Russian Railroads, and Union Pacific.
Players will be awarded points for games played, opponents played, games won, & placement in each
game, with a multiplier on the last two factors based on game length
Prizes awarded for best score in 18xx games, best score in non-18xx games, best overall score, best scores
on Friday & Saturday, & for the winner of the Sunday Ticket to Ride tournament
A Ticket to Ride tournament will be held on Sunday at 9AM, and if there are at least 8 players this tournament will count for Meeple League points. Multiple versions of Ticket to Ride will be played during this tournament (typically USA, Europe, Asia, PA, Scandinavia, and Switzerland). You must be registered with at least a one day membership in order to participate.
Games Played at the last DERail (but any train-themed games are eligible)
1822, 1824, 1840, 1846, 1849, 1861, 1862, 1880, 1889, 18Chesapeake, 18CZ, 18Ireland, 18Neb,
18NewEngland, 18NY, Age of Steam (US & Japan), French Rails, Iron Dragon, Maglev Metro, Metro,
On the Underground (London & Berlin), Paris Connection, Railroad Dice, RR Tycoon (East US, Europe,
NE Corridor, Great Britain, Nippon, thru Time, & West US), Railways of New England, Ride the Rails,
Russian RRs (Russia & US), Santa Fe Rails, Silverton, Streetcar, Ticket to Ride (Asia, Nordic, Rails &
Sails, Switzerland, PA, & US), TransAmerica, & Union Pacific