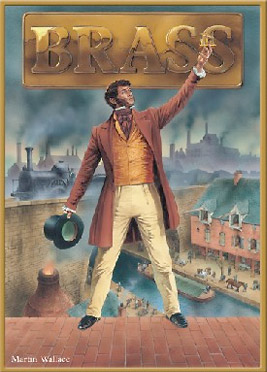 Martin Wallace's economic development game of industrialization in the Lancashire region of England. Published in 2007 by Treefrog Games. It is being republished as Brass: Lancashire by Roxley.
Online play is at Order of the Hammer. There is also an implementation for iOS available from Apple's App store.
For more information see Boardgame Geek and Treefrog Games
Brass is one of the online tournament games. Watch for event announcements.
Champions of Brass Online
Current Season Standings
| Name | Username | Div 1 Points | Div 2 Points | Div 3 Points | Div 4 Points | Game wins | Division wins | Most recent Div | Most recent finish |
| --- | --- | --- | --- | --- | --- | --- | --- | --- | --- |
| Andrew Emerick | AndrewE | 427 | 142 | 62 | 40 | 36 | 8 | 1 | 2 |
| a440 | a440 | 420 | 187 | 40 | 0 | 36 | 4 | 2 | 3 |
| jmw8 | JMW | 381 | 183 | 0 | 0 | 27 | 4 | 1 | 5 |
| brassman | brassman | 317 | 246 | 31 | 0 | 28 | 3 | 1 | 3 |
| dudzik | dudzik | 295 | 181 | 92 | 0 | 30 | 7 | 2 | 3 |
| Alexandre Fafard | alex f | 247 | 234 | 31 | 0 | 26 | 5 | 2 | 4 |
| Rob Flowers | Epworthian | 223 | 214 | 0 | 0 | 17 | 2 | 1 | 4 |
| Mylor56 | mylor56 | 166 | 236 | 69 | 0 | 22 | 4 | 1 | 4 |
| razul | razul | 151 | 279 | 28 | 0 | 17 | 3 | 2 | 6 |
| The Archon | Ken Watson | 103 | 171 | 172 | 0 | 22 | 3 | 3 | 2 |
| Sceadeau D'Tela | Sceadeau | 98 | 0 | 0 | 0 | 5 | 0 | 1 | 7 |
| Rob Murray | Zenvedev | 74 | 350 | 57 | 0 | 23 | 3 | 2 | 2 |
| MeepleSteve | MeepleSteve | 55 | 145 | 329 | 0 | 26 | 6 | 1 | 1 |
| Stephen Voland | StephenV | 49 | 74 | 0 | 0 | 7 | 1 | 1 | 6 |
| yzemaze | yzemaze | 42 | 257 | 92 | 0 | 20 | 2 | 1 | 6 |
| Norwood | Norwood | 42 | 117 | 200 | 32 | 17 | 2 | 2 | 6 |
| bayareascott | bayareascott | 39 | 128 | 253 | 61 | 25 | 4 | 1 | 6 |
| Harrycalder | harrycalder | 37 | 264 | 143 | 0 | 21 | 4 | 2 | 2 |
| Lachlan Salter | Shibumi | 36 | 90 | 24 | 0 | 8 | 1 | 2 | 7 |
| MedicineDan | MedicineDan | 31 | 99 | 41 | 0 | 9 | 2 | 2 | 2 |
| John Corrado | jmc003 | 30 | 42 | 96 | 0 | 8 | 1 | 2 | 6 |
| Dugy | Dugy | 28 | 265 | 208 | 0 | 25 | 3 | 1 | 7 |
| Randy Buehler | rbuehler | 18 | 11 | 173.34 | 0 | 12 | 0 | 3 | 2 |
| Greg Thatcher | thatchergreg | 18 | 0 | 0 | 0 | 1 | 0 | 1 | 5 |
| Hermenegilde | Hermenegilde | 17 | 142 | 27 | 40 | 15 | 3 | 2 | 4 |
| Cary Morris | DagKees | 15 | 11 | 0 | 0 | 0 | 0 | 2 | 7 |
| Vienneau | Vienneau | 14 | 84 | 192 | 15 | 13 | 2 | 2 | 4 |
| Mike Turian | Mike Turian | 13 | 51 | 26 | 0 | 6 | 1 | 3 | 3 |
| Siddharth Venkatesh | Sidnv | 8 | 77 | 61 | 0 | 7 | 3 | 2 | 6 |
| Rob51 | Mol | 6 | 183 | 204 | 0 | 14 | 3 | 3 | 2 |
| EduMeju | Meju | 6 | 111 | 283 | 0 | 17 | 4 | 3 | 1 |
| gische | gische | 0 | 282 | 102 | 21 | 20 | 1 | 2 | 6 |
| Jack Jung | Jack Jung | 0 | 154 | 133 | 40 | 15 | 1 | 2 | 5 |
| mazylek | mazylek | 0 | 121 | 309 | 0 | 22 | 4 | 3 | 2 |
| sirleiland | Lei Zhang | 0 | 100 | 178 | 0 | 14 | 1 | 3 | 5 |
| lonewolf70 | lonewolf70 | 0 | 98 | 167 | 0 | 12 | 1 | 2 | 5 |
| Eric Freeman | Eric Freeman | 0 | 97 | 127 | 15 | 12 | 3 | 2 | 1 |
| Petri Savola | Xevoc | 0 | 94 | 32 | 0 | 8 | 1 | 2 | 5 |
| DJ Borton | HotShot53 | 0 | 92 | 311 | 0 | 17 | 3 | 2 | 1 |
| psampson | Paul Sampson | 0 | 69 | 120 | 0 | 7 | 1 | 3 | 3 |
| Dvd Avins | Dvd Avins | 0 | 56 | 149 | 0 | 10 | 4 | 3 | 1 |
| Philip Shea | philip3007 | 0 | 55 | 65 | 24 | 6 | 2 | 2 | 4 |
| Kyle Meighan | One Wolf | 0 | 53 | 26 | 0 | 4 | 0 | 3 | 6 |
| Bruce Hodgins | Bruce Hodgins | 0 | 45 | 136.33 | 0 | 7 | 1 | 3 | 4 |
| Adam Stuart | astuart730 | 0 | 41 | 283 | 0 | 17 | 1 | 3 | 3 |
| Richard M Shay | labratz | 0 | 39 | 315 | 0 | 15 | 1 | 2 | 7 |
| Brent Celmins | SWxNW | 0 | 37 | 41 | 0 | 4 | 1 | 2 | 7 |
| KarokS | KarokS | 0 | 36 | 184 | 0 | 10 | 1 | 3 | 5 |
| HavocTimmo | havoctimmo | 0 | 33 | 294.33 | 0 | 13 | 3 | 3 | 4 |
| linsson | linsson | 0 | 28 | 169 | 8 | 11 | 2 | 3 | 1 |
| LokiAkatsuki | LokiAkatsuki | 0 | 24 | 188 | 0 | 12 | 0 | 2 | 4 |
| Chris Wildes | wildes | 0 | 24 | 115 | 0 | 5 | 1 | 2 | 7 |
| mowglee | Mohit Goel | 0 | 21 | 38 | 0 | 4 | 1 | 2 | 4 |
| Louis Boudreau | Purplemore | 0 | 20 | 0 | 0 | 1 | 0 | 2 | 3 |
| Daniel Filipe Moniz Pinto | Nacatl | 0 | 16 | 32 | 0 | 2 | 1 | 2 | 5 |
| Nick Henning | nickismyname | 0 | 13 | 154 | 0 | 7 | 1 | 3 | 6 |
| Paul Sampson | psampson | 0 | 13 | 98 | 0 | 8 | 2 | 3 | 1 |
| Valthane | FDDowning13 | 0 | 11 | 174 | 37 | 5 | 1 | 3 | 6 |
| amoscai | amoscai | 0 | 4 | 244 | 13 | 10 | 0 | 3 | 3 |
| AaronB | aaronjava | 0 | 4 | 182 | 0 | 7 | 0 | 3 | 6 |
| rkircher | rkircher | 0 | 0 | 336 | 0 | 13 | 0 | 3 | 4 |
| My Rs | myrs | 0 | 0 | 245 | 0 | 5 | 0 | 3 | 6 |
| Antero Kuusi | Akuusi | 0 | 0 | 179 | 29 | 8 | 0 | 3 | |
| Mapleleafbc | Mapleleafbc | 0 | 0 | 156 | 0 | 7 | 1 | 3 | 1 |
| astrostl | astrostl | 0 | 0 | 155 | 24 | 6 | 0 | 3 | 4 |
| Ben Scholl | Benny | 0 | 0 | 136 | 40 | 11 | 1 | 3 | 1 |
| Daniel Eppolito | Quinoa | 0 | 0 | 135 | 0 | 6 | 0 | 3 | 2 |
| Gregory P Churchill | spitball | 0 | 0 | 131 | 23 | 5 | 0 | 3 | 5 |
| Bogdan Jaskiewicz | Bogdan_J | 0 | 0 | 123 | 0 | 4 | 0 | 3 | 5 |
| Paul Kessels | paulk | 0 | 0 | 101 | 22 | 4 | 0 | 3 | 3 |
| Nick Page | Ziggyny | 0 | 0 | 73 | 0 | 3 | 0 | 3 | 3 |
| goonzo | goonzo | 0 | 0 | 57 | 0 | 1 | 0 | 3 | 5 |
| Tony Kamarainen | kamarainen | 0 | 0 | 54 | 32 | 2 | 0 | 3 | 6 |
| zumHeuriger | zumHeuriger | 0 | 0 | 50 | 0 | 1 | 0 | 3 | 5 |
| manic_bob | terry | 0 | 0 | 49 | 0 | 3 | 0 | 3 | 3 |
| Francois de Bellefeuille | debellefeuille | 0 | 0 | 47 | 0 | 2 | 0 | 3 | 3 |
| Andrew Kranak | Mokey D Luffy | 0 | 0 | 38 | 10 | 1 | 0 | 3 | 5 |
| joepunman | joepunman | 0 | 0 | 38 | 0 | 1 | 0 | 3 | 7 |
| Jakub Gałązka | pol10022 | 0 | 0 | 32 | 18 | 1 | 0 | 3 | 7 |
| Neil H. | Sightless | 0 | 0 | 30 | 4 | 1 | 0 | 4 | 6 |
| TronOmega | TronOmega | 0 | 0 | 28 | 10 | 2 | 0 | 3 | 2 |
| Stefano Marchetto | Pandevmonium | 0 | 0 | 26 | 29 | 3 | 0 | 3 | 6 |
| Hymere | Hymere | 0 | 0 | 26 | 0 | 2 | 0 | 3 | 4 |
| Steven LeWinter | slewinter | 0 | 0 | 26 | 0 | 0 | 0 | 3 | 7 |
| Paul Smith | saisaysplaygo | 0 | 0 | 24 | 0 | 0 | 0 | 3 | 2 |
| Marek Siejka | mazza | 0 | 0 | 18 | 0 | 0 | 0 | 3 | 4 |
| Mike Kaltman | Coyotek4 | 0 | 0 | 15 | 22 | 1 | 0 | 3 | 5 |
| i am the gull | i am the gull | 0 | 0 | 13 | 0 | 0 | 0 | 3 | 5 |
| Scott Marks | UncleSkid | 0 | 0 | 11 | 0 | 0 | 0 | 3 | 6 |
| ExPat | ExPat | 0 | 0 | 8 | 0 | 0 | 0 | 3 | 6 |
| SchweddyBalz | schweddybalz | 0 | 0 | 8 | 0 | 0 | 0 | 3 | 4 |
| Brandon Buchanan | Golfprodunkey | 0 | 0 | 6 | 8 | 0 | 0 | 3 | 7 |
| Adam Brock | Mantheron | 0 | 0 | 6 | 0 | 0 | 0 | 3 | 7 |
| farming | farming | 0 | 0 | 6 | 0 | 0 | 0 | 3 | 6 |
| Starvinmarvin | starvinmarvin | 0 | 0 | 6 | 0 | 0 | 0 | 3 | 5 |
| David Sedano | ElPecador | 0 | 0 | 0 | 13 | 0 | 0 | 4 | 5 |
| Bryce Leedham | ManicD | 0 | 0 | 0 | 6 | 0 | 0 | 4 | 7 |
| Andrew Drummond | Andrew Drummond | 0 | 0 | 0 | 4 | 0 | 0 | 4 | 6 |